SPAIN KILLS
VOL. 5: THRASH METAL
By Xtreem Music

Rancor participamos en el Vol.5 Thrash Metal de Spain Kills con nuestro tema Moonlight Nightmare.
Spain Kills es una gran compilacion de grupos españoles de todos los generos de musica extrema.
Realizada por Xtreem music, lanzada a la venta el 1 de Noviembre 2008.
Este recopilatorio se compone de 10 cds, reuniendo 175 bandas (215 temas) abarcando los generos:
Death Metal, Black Metal, Thrash Metal, Grindcore, Brutal Death, Doom y Metalcore.
Con un buen diseño y extenso libreto con información de cada banda, webs, myspaces, contacto, fotos, etc, muy completo y bien presentado.
Para una completa información de toda la obra y adquisición de los cds de cada volumen (o la friki box XD con todo) visita:
www.spainkills.com / www.myspace.com/spainkills
Para nosotros es un placer formar parte de tremendo proyecto y compartir listado con tantas excelentes bandas, varias de ellas amigas con las que ya hemos compartido escenario y muchas otras con las que esperamos compartirlo proximamente...
Listado de bandas y temas participantes en este Vol. 5 en el cual estamos incluidos.
01 Aggression - New Born War
02 Legen Beltza - Fucking Dawn of the Dead
03 Terroristars - Made in Hellspain
04 Arterial Pressure - Cage of Insanity
05 Körgull the Exterminator - Los Cavallers
Ronyosos
06 Perseidan - Nemesis
07 Evil Code - La Muerte No Pasa de Moda
08 Altar of Sin - The Art of Violence
09 Pathfinder - Nuclear Winter
10 Crysys - Dead by the Fistful of Violence
11 Hathor - Psychotic Day
12 Toxia - My Side
13 Infektor - Nada Que Perder
14 Katalepsya - Sin Perdon
15 Asfixia - Speed of Noise
16 Omission - Blood and Steel
17 Rancor - Moonlight Nightmare
18 Fatal Injury - Don't do Anything for Me
19 Tanatossis - Addicted to Violence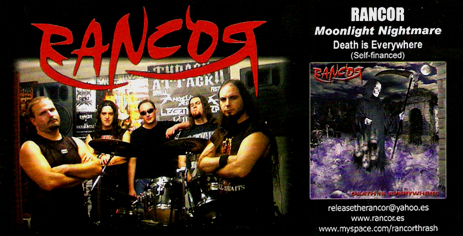 Puedes descargar nuestro tema Moonlight Nightmare aqui.
| | | |
| --- | --- | --- |
| Mp3 | Titulo-Tittle | Tiempo-Time/ Kb |
| | | 2:48Min / 3,965Kb |
Tambien lo puedes escuchar en nuestro myspace.

---
Si no ves la pagina correctamente o el menu principal en la parte superior,
pulsa aqui
.
If you don't see this site correctly or the main menu on the top,
click here
.
Version - V4.0 Mayo 2008
Creada / Created - 19-Dec-2000
Pagina Diseñada por / WebSite Designed by - DarthDani